What will you do
Acropolis tour & Athens Food Tour
Acropolis Museum visit and Cooking Class
Milos Agora walk, shopping for fresh ingredients
Milos Full Day cruise
Traditional villages visit
Cooking local Milos' Delicacies
Santorini Caldera Sunset cruise
Akrotiri and wineries tour
Santorini Brewing company tour
Cooking local Santorini Cuisine
Price Includes
All Transportation (land-private and sea) in Greece
Accommodation in 5* Hotels as indicated
All Tours (private)
All Tickets and entrances
All Meals and cost for fresh ingredients
All Drinks (as stated in program)
Cost of Exclusive Chef Traveling with you
Price per person
From* 4,380 EUR 
*based on 4 pax in double rooms. Price is not applicable between 1 July till 15 September.
Your host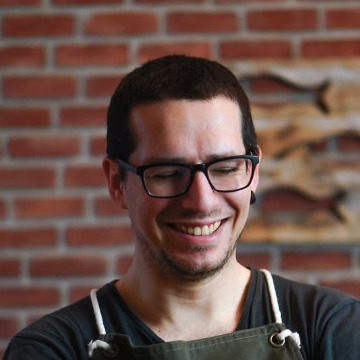 Chef Alex Pandis
What better gastronomic tour to take than one created by award-winning Chef/Pastry Chef, recipe developer, consultant, author and producer of Cooked2Perfection youtube show and Dinning2Perfection host Alex Pandis?
With experience of over 12 years in the industry and having worked for 1 and 2 Michelin star restaurants in Athens, his creations, tantalize staunch foodies with some of the most authentic food experiences offered in Greece and showcase every ingredient and technique while also staying true to what makes Greek cooking an experience you should not miss!
On this tour there is a genuine smorgasbord of appetizers, main meals and more, each celebrating the vast diversity and variety of Greek produce and ingredients available. Travel to different regions, learn more about their unique character and food culture. Taste Greece in an unforgettable way!
Traveling with a chef as host: A lifetime experience for serious foodies
9 days
From* 4,380 EUR per person